StrategyCorp October Newsletter: Housing
This is StrategyCorp's monthly newsletter, a source devoted to diving into what today's news means for public policy, our clients, and our world. Subscribe now. 
With legislatures across the country back in session, no file is attracting more attention than housing. The issue seems to touch everyone, as a coast-to-coast crisis of affordability for many, and homelessness for the most vulnerable. Governments have responded with a flurry of federal and provincial announcements over the past several weeks, all aimed at restoring the critical balance that Canadians have enjoyed for generations.
What We're Tracking This Month
HOUSING IN THE HOUSE
The federal government launched the fall Parliamentary session with Bill C-56, the Affordable Housing and Groceries Act, which will see the GST removed on new rental construction, including apartment buildings, student housing, and seniors residences. And in an effort to unlock low-cost loans for new multi-unit rental developers, the feds announced an expansion of the Canada Mortgage Bond program by $20 billion.
The big questions: While both measures help ease the financing pressure on rental home builders, are they enough to spur significant new construction given today's high-interest rate environment? Add the rising costs of construction inputs, and one big question is when relief will arrive for actual renters.
BUILD BUILD BUILD
Governments have been doling out cash to hurry along new-home building, starting with Ontario's new Building Faster Fund, providing $1.2 billion to municipalities that reach their province-approved housing targets (with further details still being worked out). Weeks later, the federal government began rolling out hundreds of millions from its $4-billion Housing Accelerator Fund. The funding floodgates opened on Sept. 13 with the unveiling of an agreement with London, followed by Halifax, Vaughan, Brampton and Hamilton, and a $900-million pledge to Quebec, which the province plans to match.
What to watch for: Governments are increasingly willing to be more active in prodding municipalities to approve housing faster by financially rewarding denser, more efficient land-use planning at the local level, a clear departure from previous governments.
MISSISSAUGA MULTIPLEXES
In a bold move, Mississauga Mayor Bonnie Crombie said she would use her strong mayor powers to overrule city council to allow fourplexes to be built across the city. This would not only unlock more intensification in the GTA municipality, the measure will also ensure that the city remains eligible for $120 million in federal funding.
Big picture politics: The Mississauga Mayor's muscle-flexing move may open the doors to gentle density, but could also be seen as validation of the Ford government's initial argument that strong mayor powers were needed to build more homes.
TRANSIT TODAY, HOMES TOMORROW
Ontario's proposed Transportation for the Future Act will allow municipalities to fund design and construction of new GO Transit stations through a new "Station Contribution Fee" and subsequently recover costs over time as transit-oriented communities (TOCs) are built around the added stations.
The long view: TOCs have long been seen as a smart development model – a strategy municipalities can now adopt in partnership with builders to transparently add density and expand transit side-by-side. Watch for municipalities on existing rail corridors to hop on board the new initiative.

DEGREES OF AFFORDABILITY
Consultations are underway between Ontario's Ministry of Colleges and Universities and the post-secondary sector, municipalities, and builders to look at ways the province can remove barriers to affordable student housing. Given the urgent need for student housing supply, governments are looking at everything from fast tracking approvals to encouraging partnerships between builders and universities and colleges.
Watch the talk: Bringing these stakeholders together could be the first step in easing what has emerged as a distinct problem in the wider housing file, with spillover effects on the broader rental market.
DEFINITION FIRST, THEN DEVELOPMENT
While the Ontario government has brought in legislation meant to promote affordable housing, so far it hasn't been clear on what exactly constitutes "affordable." Now, the province is proposing changes to the definition — in conjunction with consultations. The idea is to take into account local incomes and market factors to better reflect how much residents might reasonably pay for housing in their own region.
Key impact: The More Homes Built Faster Act waives development charges for affordable housing, but only when a definition is in force. Once the term is defined, watch for new construction of affordable housing that is DC-free.
2023 ONPHA CONFERENCE: Building for Belonging
Back for another year, the 2023 Ontario Non-Profit Housing Association (ONPHA) Conference was held from October 26-28th at the Sheraton Centre in Toronto. As always, the ONPHA conference packed a full agenda of leadership and training sessions, special guest speakers, a trade show, and networking opportunities for participants. This year's theme was Building for Belonging, with the goal of fostering a sense of unity within the sector and discovering the next generation of non-profit housing leaders to drive the sector forward.
New Executive Survey Report: StrategyCorp was honoured to partner with ONPHA to launch our first Non-Profit Housing Corporation CEO Survey, a frank report on the opinions of the sector's leaders in the province. Our team spoke with 20 leaders over the summer and fall of 2023, providing each with an opportunity to reflect on their roles and responsibilities, and to express what worries them, and what they require to seize future opportunities. This work built on StrategyCorp's experience with the popular annual surveys of municipal Chief Administrative Officers from across Ontario.
SUSTAINABLE AFFORDABILITY
Expanding the supply of housing cannot come at the cost of exacerbating the effects of climate change. Enter the Task Force for Housing and Climate, struck to tackle two of Canada's most pressing issues in tandem.
Members include former federal cabinet minister Lisa Raitt, former Edmonton mayor Don Iveson, and housing economist and prolific public commentator Mike Moffat, who will argue that the badly needed boost in housing supply must be affordable, sustainable, and net-zero.
What's next: Watch for proposed policy instruments (think building codes, zoning changes and tax measures) to protect new homes from extreme weather events and reduce greenhouse gas emissions, while still maintaining affordability.
UNCOMPROMISING INNOVATION
StrategyCorp is fortunate to work with many innovators in the housing space and CABN in one of them. With its sustainable, rapid-build homes, CABN's cross-laminated timber construction and energy-informed design allows these homes to use up to 80 per cent less energy than traditional versions while achieving net-zero status. They also prove that rapid construction — assembled in days, finished in weeks — doesn't mean compromising on design.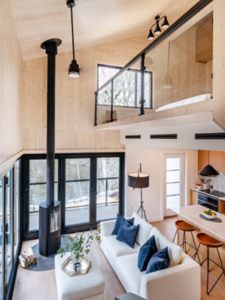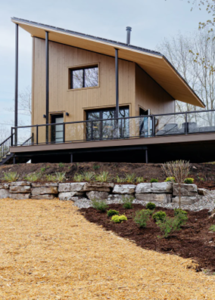 Economic Dashboard
COOL-SEASON ECONOMY
Along with the fall weather, the real estate market is cooling off. Home sales in Canada decreased for the third consecutive time in September. The MLS Home Price Index benchmark price declined slightly to $753,900, but remained nearly 40 per cent above pre-pandemic levels.
The combination of high house prices, interest rates and population growth is fueling demand on the rental side. The national average rent for a two-bedroom apartment hit $2,342 in September, up 9.5 per cent from a year ago.
Forecast detail: Based on the anticipated pace of construction, Canada Mortgage and Housing Corporation estimates an additional 3.5 million units will be needed by 2030 to restore housing affordability. Building permits and housing starts levels would need to increase dramatically to meet this target.