Ontarians Are Still Moving to Other Provinces in Droves
Statistics Canada recently released its much anticipated population estimates. The headline number attracted a lot of attention: Canada's population grew by an impressive 292,232 individuals between January 1 and April 1, 2023. Approximately 98 per cent of this growth came from permanent and temporary immigration. Canada welcomed its highest number of immigrants ever in the first quarter of 2023 (Q1, 2023), as did six provinces (Newfoundland and Labrador, Prince Edward Island, Manitoba, Saskatchewan, Alberta and British Columbia).
Less discussed, Statistics Canada published at the same time new data on interprovincial migration for Q1, 2023. Facilitated by the switch to remote work during the pandemic, the number of Canadians who moved to another province began rising substantially in 2021 before hitting 146,097 in Q2, 2022, the highest level since 1980. With COVID essentially behind us, the return to the office and uncertainty around the trajectory of the economy, interprovincial migration was expected to recede in 2023. However, the opposite happened: Statistics Canada reported that 99,154 individuals moved provinces in the first three months of the year, which is the highest number ever recorded for a first quarter.
The data shows that, while Ontario continues to be the top destination for international immigrants, it has been consistently running an interprovincial migration deficit since Q4, 2020. This is caused by a sharp rise in the number of "out-migrants". Since the start of 2021, a total of 267,462 residents left the province.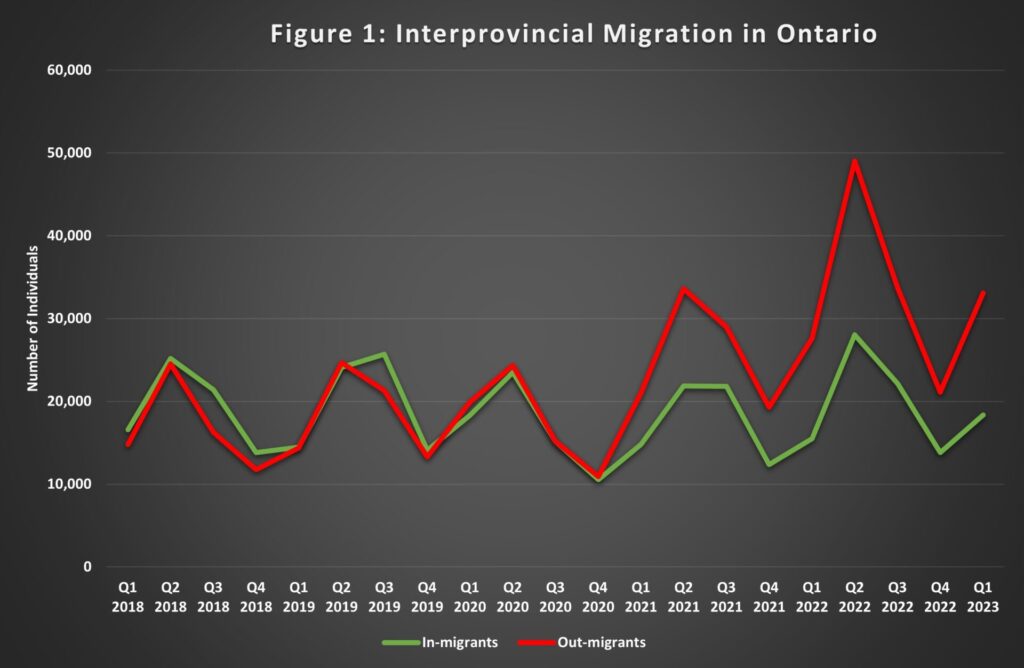 Interprovincial migration in Ontario
So where are Ontarians moving? Atlantic Canada overtook British Columbia as their premier destination of choice in 2021. Alberta also became increasingly popular during the pandemic and now attracts the most interprovincial migrants from Ontario. In Q1, 2023, 11,564 Ontarians moved to the Wild Rose Country. Accounting for seasonality, Alberta could see a major influx of interprovincial migrants, especially from Ontario, in the second quarter.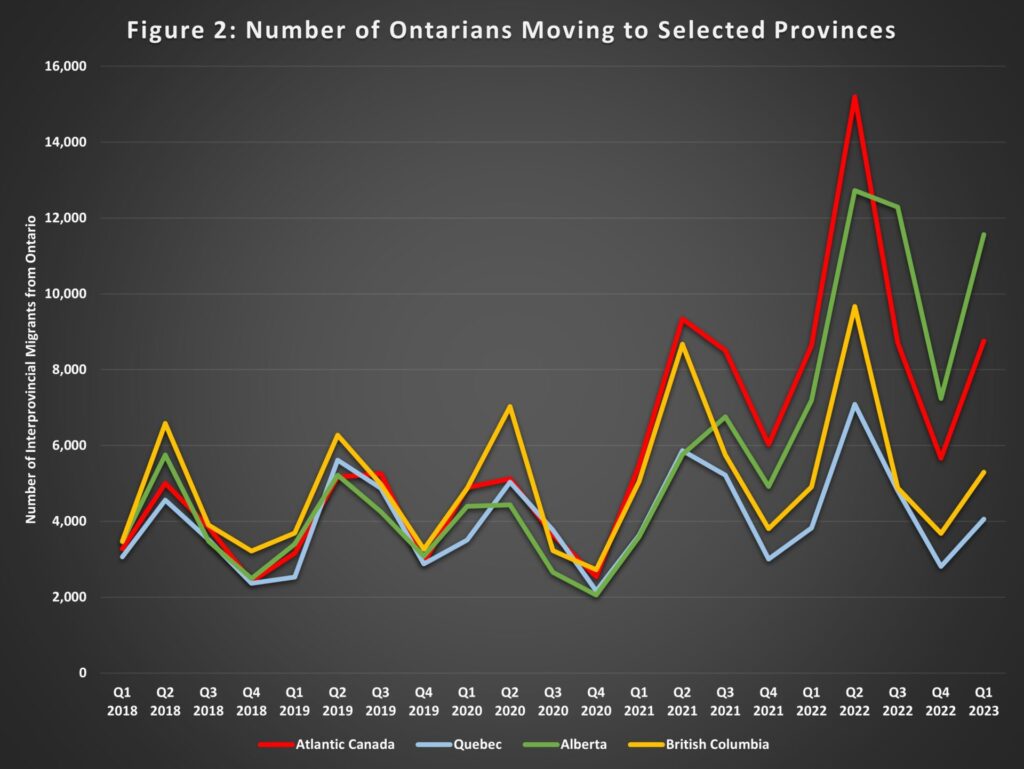 Number of Ontarians moving to selected provinces
Why Interprovincial Migration Matters
Nova Scotia and Alberta ran campaigns to attract interprovincial migrants. Both benefit from a significant comparative advantage when it comes to housing affordability. According to the MLS® Home Price Index, the seasonally adjusted benchmark price for a single-family house in Alberta and Nova Scotia was $524,000 and $382,700 respectively as of May 2023. The same type of property in Ontario went for $989,300. On the rental side, data from rentals.ca shows that the rent for a two-bedroom apartment in Toronto was $3,286 in May 2023 compared to $2,141 in Halifax and $2,019 in Calgary (to learn more about housing in Alberta, listen to the Institute's podcast with Ann-Marie Lurie, the Chief Economist of the Alberta Real Estate Association).
Interprovincial migration can be however a double-edged sword as it has put pressure on housing stocks in host communities, especially in Atlantic Canada. The price for a single-family home in Nova Scotia and New Brunswick has increased by 71 and 63 per cent respectively since May 2019. The vacancy rate for a purpose-built two-bedroom unit stood at only one per cent in Halifax last year according to Canada Mortgage and Housing Corporation's Rental Market Report.
Interprovincial migration represents a demographic opportunity for provinces that can attract individuals. Numbers for 2021/2022 show that around 40 per cent of all in-migrants to Atlantic Canada and Alberta were between the ages of 20 and 34. These people will be in the workforce and therefore pay taxes for a long time. While some may still work remotely for an employer based in other province, interprovincial migrants can bolster the local labour force amid a tight job market. Giving their younger age, they can support the economic diversification efforts currently underway in both Alberta and Atlantic Canada.
So, what does this all mean? Interprovincial migration helps assess the appeal and competitiveness of provinces when it comes to attracting and retaining workers. The data for Q1, 2023 tells us that Ontario is struggling in this department as it bleeds younger individuals to other parts of Canada. Affordability and housing prices are likely playing a significant role in this dynamic.
Sebastien Labrecque is the Chief Economist and Deputy Director of StrategyCorp's Institute of Public Policy and Economy.